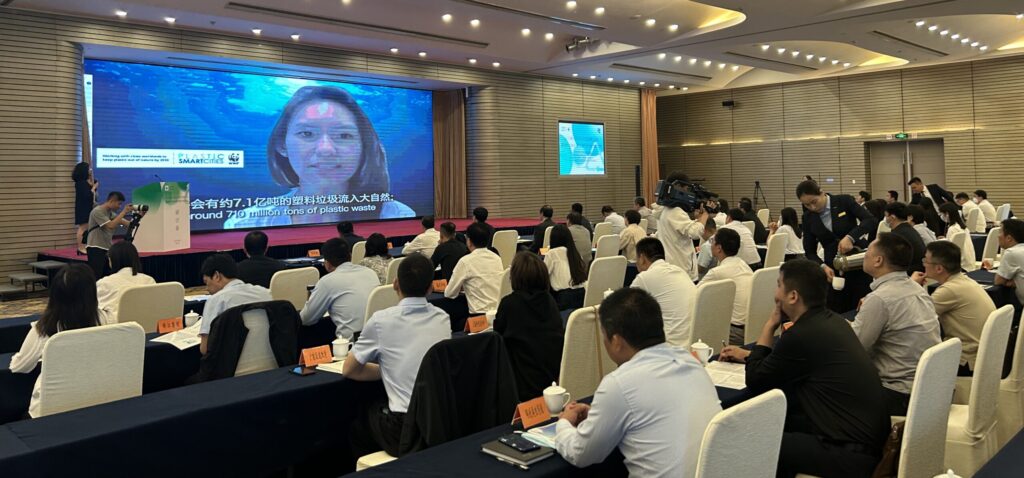 The Yangzhou Municipal Government celebrated its achievement of the Plastic Smart Cities goal this summer — of successfully reducing plastic pollution and leakage by 30% in its selected pilot area.
Over the last three years, Yangzhou has worked at establishing a comprehensive waste management system for waste classification, collection, and disposal, all while emphasizing market-oriented solutions and active citizen participation, as part of its commitment to the Plastic Smart Cities initiative.
Liu Zhonghua, director of the Yangzhou Municipal Urban Management Bureau stated that out of 350,000 tonnes of plastic waste produced annually, the recycling rate is now over 35%. He also proudly shared that Yangzhou city will continue its collaboration with WWF to work on improving the plastic waste management system.
"We will continue to promote the reduction of single-use plastics and implement the Plastic Smart Cities best practice approaches," added Liu.
To share its experience and lessons learnt, the "Guidelines for Plastic Smart Cities in the Yangtze River Delta – Yangzhou Practice" was released. This guideline contains Yangzhou's practical experience in waste management and in raising public awareness to build long-term support for environmental protection.
Released at a seminar, the occasion has also become a discussion platform for relevant government departments, enterprises, institutions, organizations, and academics to discuss solutions to plastic pollution and sustainable resource utilization in the Yangtze River.
Download here (in Mandarin language only): "Guide to Plastic-Free Cities in the Yangtze River Delta—Case Study of Yangzhou Plastic-Free City"
Yangzhou Joined Plastic Smart Cities in 2020 to Save Yangtze River and its Biodiversity
The Yangtze River is the third longest river in the world, flowing over 6,300 kilometers from the Tibetan Plateau to the estuary of the East China Sea near Shanghai. Known as one of the world's seven rivers with the richest aquatic biodiversity, Yangtze is home to 424 species of fish, including 183 endemic species — meaning they are native to this area.
This river is also one of the main sources of water the community relies on – for drinking, cleaning, farming, fisheries, and transportation. However, with rapid population and industrial growth in China, the increasing demand and unregulated use is now posing a threat to this vital habitat for wildlife, and for people too. Plastic pollution in the river is one of the critical threats that needed to be dealt with.
In April 2020, the Yangzhou City Government of Jiangsu Province signed the Plastic Smart Cities declaration and announced its commitment to reduce plastic leakage in the city. Yangzhou became the second city in China to join the global PSC initiative, after Sanya on the island of Hainan.
No Plastic in Nature: Starting with Yangtze River
According to Yang Weidong, Deputy Director of the city's Urban Management Bureau, before joining the Plastic Smart Cities initiative, the city did not have a complete policy support and evaluation system nor did it crack down hard enough on underground plastic workshops.
"Plastic bags were not effectively banned in farm produce markets and shopping malls," said Yang. "Many white pollutants were piling up in the rivers and ponds in rural areas, resulting in water pollution of the Yangtze River."
After a number of field surveys, the WWF experts studied the status of Yangzhou's plastic waste treatment and together with municipal authorities, decided to make the three towns of Touqiao, Lidian, and Shatou in the city's Guangling District a pilot zone for implementing PSC. Measures were taken to start waste classification at homes, with emphasis placed on dealing with the problems in the pilot rural areas to promote comprehensive urban-rural plastic waste management.
"The first problem we solved was getting solid waste into garbage bins," said Leng Shan, Deputy Director of Guangling District's Environmental Sanitation Office.
Urban residents are used to throwing their garbage into bins. However, in the villages under the administration of the three towns, residents used to throw their garbage into huge open-air garbage pools.
"The garbage pools were a mess with garbage spilling all over the place," recalled Leng. "When new garbage bins were installed, villagers didn't seem to like the idea at first. Some of the bins were thrown into rivers, and others were stolen or set on fire. Terrible things happened."
After many setbacks, the task force gradually found solutions. "People in rural areas rely heavily on human connections," said Leng. "To get the ball rolling, we sought advice from the most respected village elders, village heads, and chiefs of villagers' committees and asked them to take the lead and mobilize the villagers into action."
In 2021, Yangzhou City's "Implementation Plan on Further Strengthening Plastic Pollution Control" was developed and officially implemented. The action plan includes ban and restriction of the production, sale and use of selected high-risk plastic products, promoting of recyclable and easily degradable alternative products, standardizing the recycling and disposal of plastic waste to reduce the amount of plastic waste landfilled.
After a period of rural household waste classification and rural living environment improvement, the three pilot towns have changed considerably. A total of 2,153 garbage pools were demolished, 2,509 garbage collection points renovated, 696 classified garbage platforms built, 11,340 garbage bins were installed, and 294 bulletin boards were built. The towns have been equipped with 39 classified garbage transport vehicles and a professional transport team of 69 workers.
Leng reported that finding solid industrial waste in farming fields is a relic of the past. Garbage classification facilities have been fully installed in the villages, supported by regular garbage transportation systems operating simultaneously in urban and rural areas.
"We still have a long way to go to build a plastic smart city," said Leng on the long-term plan. "We will continue to strengthen our capacity in collection, transportation, and publicity while improving our abilities in secondary classification of garbage. Sometimes, residents don't know how to classify garbage properly, so it falls on us to sort it. In the future, secondary classification will not be necessary when residents sort it properly at the start. Of course, there's still a long way to go."
"As the first city in the river basin to join the Plastic Smart Cities initiative, Yangzhou's commitment and best practices will have an important impact on improving the ecological services along the Yangtze River," said Lu Lunyan, CEO of WWF-China.
"We appreciate the leading role played by Yangzhou City in promoting the Plastic Smart Cities initiative. We hope that Yangzhou's trailblazing experience will inspire other cities across the country," Lu added.
Parts of this article has been excerpted from the article "Plastic Smart Cities in China", as reported by China Report ASEAN