WWF-Philippines' No Plastics in Nature (NPIN) initiative celebrated its fifth anniversary on Tuesday, July 18 2023 at the Department of Environment and Natural Resources Social Hall in Quezon City, Philippines. This event was attended by WWF-Philippines staff, the Norwegian Ambassador, PSC representatives from all project sites, projects under the NPIN Initiative, national and local government units, funders, community and social enterprises, experts, and civil society partners to celebrate the journey of combating plastic pollution in the Philippines.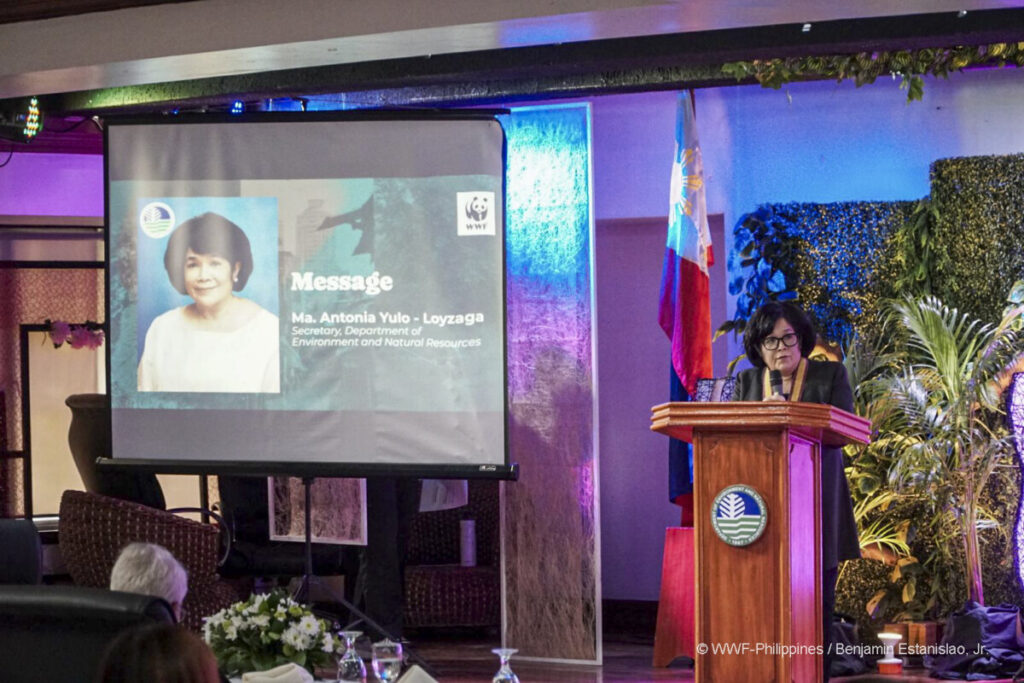 "As our planet continues to bear the weight of more than 7 billion tons of plastic, we need to come together as an alliance to ensure the ecological and economic and social gains are actually delivered to all sectors, to all ecosystems, and to all communities," says DENR Sec. Maria Antonia Yulo-Loyzaga. DENR has always been one of the biggest and strongest partners of WWF in the implementation of various environmental and conservation projects in the country.
The NPIN Initiative
The NPIN initiative is WWF's holistic approach to addressing plastic pollution, with the aim to stop the flow of plastics into nature by 2030. Since then, the initiative launched several projects, empowering communities and social enterprises, pushing for policies, and releasing studies on proper waste reduction and management. 
The NPIN initiative is built on three core pillars: 
Global Governance
Business Engagement
Plastic Smart Cities
Besides launching the Ayoko ng Plastik campaign in 2018 to spark awareness and action against plastic pollution, NPIN also launched Plastic Smart Cities (PSC). PSC gained commitment from cities across different landscape archetypes – from lowlands and highly urbanized cities to coastal communities and islands – to implement local pilot solutions to reduce and divert plastic waste from leaking into nature.
So far, PSC has worked with Donsol in Sorsogon, Davao City, the Municipality of San Isidro in Davao Oriental, and the Island Garden City of Samal, Del Carmen, General Luna, Batangas City, Taytay, Donsol, Manila City and working towards building potential partnerships with Siargao, Palawan and Cagayan De Oro City. There are also 3 ports: Port of Batangas, Manila North Port, and Port of Cagayan de Oro.
Beyond addressing plastic pollution issues, the initiative also worked with and empowering communities and social enterprises, pushing for policies and releasing studies on proper waste reduction and management. 
Also read: Kalipi: Empowering Women in the Philippines to Reduce Plastic Waste
NPIN Milestone
NPIN's work highlights the need to properly integrate communities such as waste workers in solutions through engagement and participation. NPIN has also supported initiatives like the Women in Waste Economic Empowerment program which capacitated women waste workers in Metro Manila such as junk shop owners, aggregators, and sweepers to become leaders of waste management in their communities by providing management training and mentorship, and grants to jumpstart their businesses. Furthermore, through the PSC project, NPIN aims to develop and craft solutions together with these communities.
These piloted solutions to date have reduced at least 16,000 kg of plastic waste, collected at least 38,000 kg of waste, and diverted at least 150,000 kg of plastic waste from landfills. WWF's NPIN network has grown and is continuously growing, now working in 10 LGUs, 3 port management offices, and renewing reduction/ management partnerships with at least 20 businesses.
All of NPIN milestones wouldn't be accomplished without the help, support and cooperation from all the partners to achieve the same goal of combating plastic pollution, because plastic doesn't belong in nature. Hopefully, the work from this shared goal with all partners will continue across the Philippines and beyond.
"What we're asking here today is to join us together with WWF and our partners in the country of Norway to join us in the whole-of-government and whole-of-society effort towards building a green solid waste management," said Ma. Antonia Yulo – Loyzaga Secretary, Department of Environment and Natural Resources.
This update is adapted from a media article originally posted by WWF-Philippines here: https://wwf.org.ph/resource-center/story-archives-2023/no-plastics-in-nature-celebrates-five-years-of-milestones/